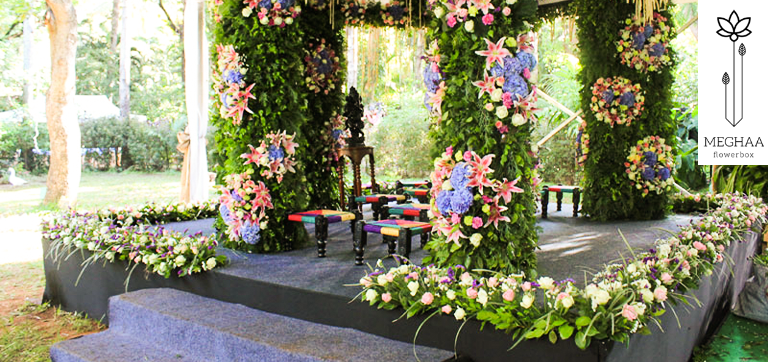 Who would have thought that the Indian monsoon season would ever see a crazy wedding rush? But well, the pandemic has made way for new exploits. Couples and their families are letting go of apprehensions associated with rains and are allowing the romance of this beautiful season to take over. Indeed, monsoon weddings have moved from reel life to real life!
New age couples who have witnessed the gloom of the pandemic and are aware that their guests have too, are keen on turning their monsoon wedding into a bright new beginning for every one. Bangalore based luxury florist Meghaa Modi and founder of Flowerbox - the best flower store in Bangalore says "
The wedding guest list may have shrunk for obvious reasons but the desire for a beautiful memorable wedding has gained momentum. What can make a monsoon wedding more memorable than a stunning wedding decor? And what can be more divine than decorations made from gorgeous fresh flowers?"
Meghaa Modi whose floral decoration ideas have graced many grand weddings in Bangalore points out, "It's easy to get swayed by planners who propagate the use of synthetic flowers to cut costs, citing that fresh flowers won't last in the wet season. Nothing can be further from the truth. Real flowers will not only last but will also infuse the venue with freshness and positivity." Meghaa who is busy this monsoon creating floral wedding decorations in Bangalore adds, "Monsoon is already so romantic and blissful. Bring in fresh flowers and you will have nothing less than the magic of paradise!"
Bright and colorful Fresh flowers for monsoon wedding decoration - As beautiful as the monsoon season is, a pop of color is needed to counter the grey tone of the season. Monsoon can get dark and gloomy but that's where bright colorful flowers come in to glam up your big day. Yellow and orange marigolds are the first choice for flower decoration for marriage halls for monsoon weddings.They are eye-catching and fragrant and long lasting too! Chrysanthemums and mokara orchids can bring the rainbow down to your wedding venue!
Lush Greens for monsoon wedding decoration - Monsoon brings to us every shade of green. How about bringing in a little bit of the greens to the wedding venue? Nature oriented floral designs with generous use of foliage like palm leaves, ivy leaves, eucalyptus leaves and banana leaf decoration can bring an eco-friendly touch to your monsoon wedding decoration.
Props for monsoon wedding decoration - Colorful umbrellas decorated with fresh flowers can introduce the fun quotient to your monsoon wedding. Lanterns adorned with fresh blooms can dazzle up your reception floral decoration. The day might be gloomy, it's monsoon afterall, but LED lights with fresh flowers can certainly set the day aglow!
Say no to plastic flowers - Monsoon is the best gift of nature. Show your appreciation for nature by saying no to plastic decorations. Reduction of carbon footprint is the need of the hour. Therefore choose only fresh flower decoration for your monsoon wedding.
So, if your question is who will design my monsoon wedding and curate high quality wedding flowers near me? Look no further. We at Meghaa Flower Box are experts in
fresh flower decoration for weddings
and we proudly present our nature based designs. We can create elegant wedding decor for your monsoon wedding,
Meghaa flower box has the brightest and the freshest flowers for marriage decoration. For unique flower decoration ideas and luxury wedding decor, get in touch with luxury wedding florist Meghaa Flower Box and book your consultation today. Log on to www.flowerbox.in or follow @meghaaflowerbox on instagram.