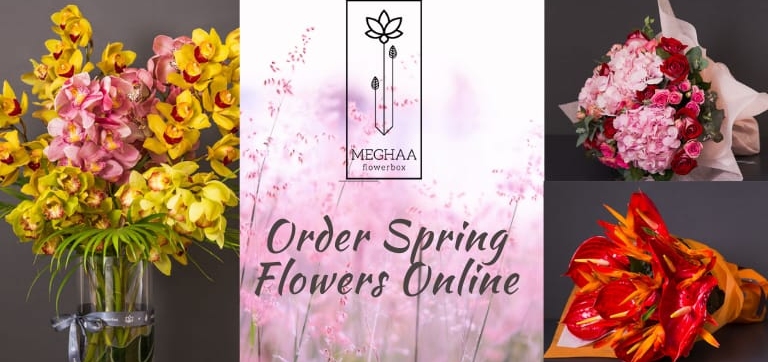 Gentle sun rays kissing tree tops, shy new leaves opening up to the world, radiant fresh fragrant blooms beaming all around. When nature has so much freshness to offer, we know it is springtime. Wouldn't it be nice if we could get a little bit of the energy of spring inside the four walls of our homes too?
Flowers of spring remind us that the world is vibrant and full of positive energies. They fill up our senses and they lift our mood. Of course you can step outdoors and say hello to spring blooms but wouldn't it be nice if you just woke up to fresh spring flowers greeting you each morning right inside your home?
Fresh flowers as a part of your living space is always a good idea. Luxury Florist and owner of premium flower store - Flower Box, Meghaa Modi whose stylish flower arrangements have adorned many homes in Bangalore believes that a house decorated with fresh flowers becomes a home full of delight. Meghaa says, "Fresh floral arrangements for home not only bring style and elegance but they are also about bringing nature inside from the outside thereby influencing more cheerful vibes. Moreover, flowers of spring and summer reflect the positive energies of the sun." You can bring more spunk to your home decor with some beautiful spring and summer flowers along with blooms like roses and orchids that are available all year though..
Hydrangea: Gorgeous as they are, these globe flowers can brighten up any space you assign them to. Available in eye catching colors like pink, blue and lavender, if you want to impress your guests these are the blooms you go for when you order flowers for home.
Chrysanthemum: Chrysanthemums or mums are long lasting blooms that come in diverse colors and can be used to create a variety of floral arrangements that can set up different moods. Order Chrysanthemums online for your home as centrepiece arrangements for fun family get-togethers or get one for corner table to evoke positivity as you work from home. Mums are versatile!
Calla lilies: Though Calla lilies grow throughout the year they bloom typically from late spring to early summer. Perfect for modern floral arrangements, these classy blooms can take your flower home decor to the next level and should definitely be available during springtime at your favorite flower store nearby.
Heliconia: Heliconia are bright and sunny tropical blooms that can create fascinating and dramatic floral designs. They are just right for festive occasions or to bring life to dull spaces.
Grass: Lush wheat grass, feathery pampas grass and ornamental millet grass have beautifully woven their way into floral arrangements in recent times. They are trendy and can up the glamour quotient of your living space by being a part of your chosen flower arrangement.
Order fresh flowers online from your favorite premium flower shop nearby - www.flowerbox.in and enhance the visual appeal of your home. We deliver fresh flowers that will last all week. Whether it's your living room, dining area, bedroom or kitchen, our skilled and professional team will ensure that the arrangements compliment the space even with online delivery of flowers.
Get a flower subscription that fits your budget and suits your home from www.flowerbox.in, the best flower delivery store in Bangalore or visit our luxury flower delivery store in Indiranagar. Say hello to the freshest flowers in Bangalore, say hello to spring!