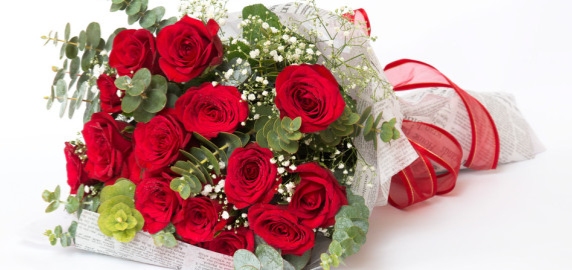 There's a lot of ways you can share your feelings as Valentine's Day approaches, but few more traditional or beautiful than a bouquet of flowers. Fresh flowers have always been seen as an embodiment of beauty and is regarded as an expression of the wishes that reside in the heart of the giver. We can only conjecture that the incorporation of flowers into Valentine's Day festivities began with the same intention.
The most popular Valentine's Day flower bouquet and also my (all-time favourite) is the Red Rose. The mythological significance of the red rose is that it is believed to be the favourite flower of Venus – The Roman Goddess of beauty, love and romance; making it the perfect blossom to be gifted to someone you love.
Historians believe that the tradition of giving a red rose on Valentine's Day gained significance during the Victorian times when Charles II of Sweden introduced the Persian custom of "the language of flowers". Poets and bards furthered the tradition by eulogizing the red rose as symbol of passionate love and romance.
Though I am partial to red roses, there are quite a few thoughtful, romantic and surprising floral alternatives that say which mere words can't. Tropical arrangements like Orchids' and Anthuriums' are reminiscent of the exotic locales they hail from; adding a hint of fantasy to your floral mix. Orchids in particular are delicate and graceful, representing love, luxury and beauty. Red and pink Tulips' symbolize fresh beginnings, apt for giving at the start of your romance. Sunflowers' with their open face and bright yellow petals, convey warmth, happiness and adoration. Lilies' are elegant and refined which blends magnificence and beauty with purity and Innocence. Give these to announce your undying love for your partner. Carnations', Gerber daisies' typically look innocent and fun. Grab a bunch to say "I admire you", thank you", "you make me happy", "I love you".. all at once.
Choosing a bouquet that conveys your feelings can sometimes be a tough choice. I would like to suggest a few guidelines to help you with your perfect bouquet for that someone special. I'd like to quote poet/writer Sir Antoine de Saint-Exupéry, who has beautifully worded my own philosophy -
"It is the time you have wasted for your rose that makes your rose so important." - Antoine de Saint-Exupéry, The Little Prince
As a floral designer, I have always believed that simplicity, uniqueness of design and use of excellent material is the mainstay of any gift. So, beware of flowers that are soft from the stem or when the petals seem translucent. This generally means that the flowers won't last and may not even make it past Valentine's Day. Ask your floral designer to discreetly wrap the bottom of the stems with some wet cotton and foil before wrapping it in the paper of your choice. This is to make sure that the flowers remain healthy and don't droop or wilt!
Make it a showstopper! The bouquet needn't necessarily be large, but a dramatic ikebana style or wrapping the casually put-together bunch with some handcrafted rice paper and matching ribbons, can definitely up the ante in the luxe department.
Follow these simple steps and you'll spend the day blissfully in love and she'll spend the day in awe of her beautiful flowers chosen exclusively by YOU!