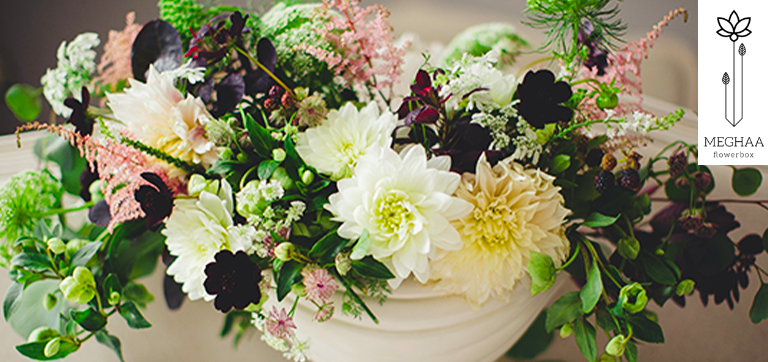 In fraught situations like the current pandemic everyone is constantly looking for ways to feel better. One needs healing, one needs joy, one needs love, one needs to de-stress. There are several ways to deal with these needs but the one that we at FlowerBox recommend is an all-in-one solution. We suggest fresh flowers. We say, have them around all the time! And the best way to ensure an uninterrupted flow of beautiful energies through fresh blooms is to sign up for a floral subscription with your favourite floral decoration store that gives you the option of online flower delivery in Bangalore.
Flowers are tonic for the soul, flowers invite happiness, they spread cheer, they convey love. A continuous supply of flower power to your abode and to the homes of the ones you care about is the much needed antidote to stress that these difficult times bring along. Bangalore based luxury florist Meghaa Modi, who unflinchingly believes in positive energies of flowers, says, "One should dedicate a space in one's home for fresh floral decoration." Meghaa, whose own home (obviously) has spaces dedicated to fresh flower arrangements adds, "The combination of colours, freshness and fragrance creates magic in terms of both visuals and vibes. And once any space is assigned to flower decoration at home, it is a good practice to maintain those positive energies by bringing in new flowers to replace the old ones."
Treat yourself to floral freshness: A weekly floral subscription with a flower delivery store nearby is a great idea. With new fresh flower arrangements delivered to your doorstep week after week, you will be able to maintain the aesthetics and the energies of your living space without a break.
Gift a floral subscription: Why should special occasions end in a day? How about celebrating 'Birth month' instead of just a birthday? Why can't the joy of receiving gifts last a little longer? Each time your special one receives a new bunch of fresh flowers they will be reminded about your love for them. So go ahead and gift weekly flower subscriptions to the ones and please them every week with our online bouquet delivery in Bangalore. Shhhh, we won't tell them it was our idea ;)
Shop Flowers Online - While we agree that visiting flower stores is a delightful experience, in the current plot of our lives, stepping out to shop is not a great idea. But we assure you that visiting our online flower delivery store is a fun experience too. So you don't have to step outside every few days to pick your bunch of flowers. Just pay once for your weekly flower subscription and be assured that your trusted florist will send across happiness packed in a bunch of flowers on time, every week.
Different flowers every week - Once we know your preference we will customise our floral arrangements according to your taste and we will deliver different flowers each time so that you and your loved ones can experience and enjoy the benefits that each type of flower brings. For an absolutely exquisite experience we offer luxury flower delivery in Bangalore.
We understand that with your packed schedules and the pressures of balancing work and family life, little delights that quietly usher in big joys can go on the back burner. But if you pass on to us, this responsibility of sending beautiful floral experiences to your home, it is our promise that we will give you no reason to complain. A promise that only the best florist in Bangalore can keep!
Roses for love, sunflowers for happiness or lilies for peace and calm, tube roses for positivity…. the world of flowers is one joyful place. Explore the realm of flowers and choose these stress busting, cheer spreading, joy bringing lovelies to your living space through FlowerBox. To get the best flower delivery in Bangalore log on to www,flowerbox.in. You can also enjoy online cake and flower delivery in Bangalore / Flowers and chocolate delivery in Bangalorein the subscription format!
Flowers always make things better. Get your dose of floral bliss today and don't forget to share it with your loved ones too!