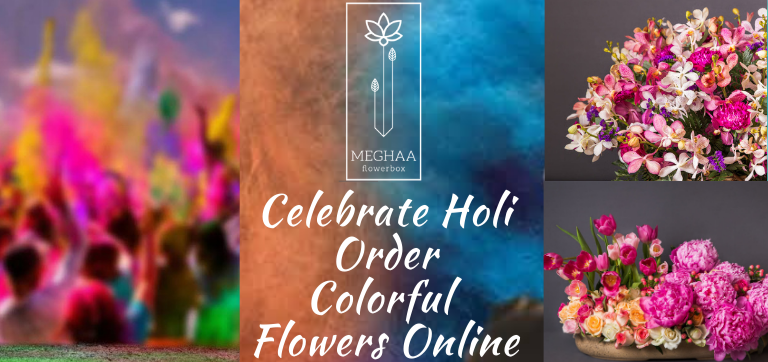 The festival of color, Holi, announces the arrival of spring. Colors dominate spring season and nature shows off her beauty by displaying blooms in every shade and hue! There are flowers in pink, red, purple, yellow, orange and blue, all peeking out from lush green bushes and tree tops.
Holi is here and it's time to have fun with colors. Bangalore based luxury florist and owner of premium flower store - Flower Box, Meghaa Modi, loves to play with colors in her floral designs. "The pandemic may keep you from celebrating holi with gulal but what stops you from celebrating the festival of colors with beautiful vibrant gulab?" smiles Meghaa. She says "A flower arrangement of colorful spring roses against a plain wall will bring happiness to your home and a handheld bunch of roses in pastel hues, sent to your special one's address during this festival of colors, will bring joy to the hearts involved!"
Of course, you can order roses online this holi as roses come in all colors and one can never go wrong with these sweet blooms whether they are set in hand held bouquets or arranged in vases for home. There are many other colorful spring flowers too that you can choose from to make this holi sprightly and special.
Carnation - Carnations come in all colors of spring.. Red, crimson, pink, yellow, white and even green! These scented beauties are ideal for home and office spaces and are suitable for all sorts of floral arrangements. Order carnations online and celebrate holi in style.
Mokara Orchid - Mokara Orchids are found in beautiful vivid colours and perhaps in every shade on the spectrum! White to off-white, blue to teal, scarlet or red, bright yellow or ochre, purple and lavender if you so please…. you just name it! This holi, get these eye catching and long lasting blooms from your favorite flower store nearby.
Anthurium - These tropical flowers are not only attractive and elegant but also they come in a variety of classy colors! Never too bright in a bouquet for loved ones, never too pale against a bright wall, these flowers are perfect for just about any occasion and setting. Color this holi with exotic anthurium flowers. Order fresh flowers online from your favourite premium flower shop in Bangalore.
Snapdragon - Snapdragons are pretty flowers that can add a pop of color to your living or work space and can also add spunk to a hand held bouquet. They grow in a variety of colors like peach, pink, yellow, red and white. Order high quality seasonal flowers like snapdragon to brighten up your home or to make your loved one's holi extra special.
This year celebrate holi with colorful flowers, Order fresh flowers online from your favorite luxury flower shop nearby - www.flowerbox.in and give a whole new definition to the festival of colors. This holi brings the freshness of colorful flowers to your home or send fresh flowers online to the ones you love from the best fresh flower delivery store in Bangalore or visit our luxury flower delivery store in Indiranagar.
Wish you a happy, colorful and flowerful Holi!