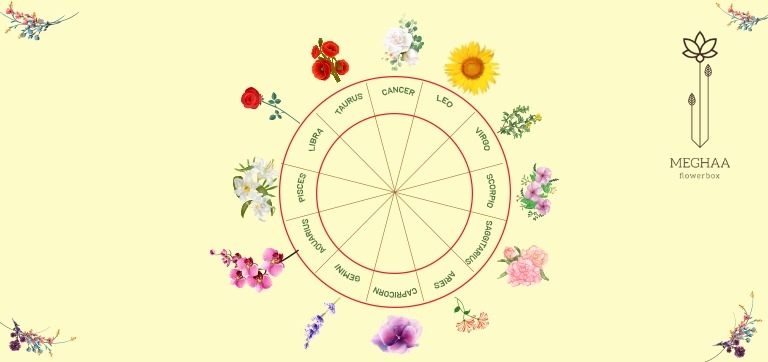 We at Flower Box, take pride in providing Luxury Flower Delivery in Bangalore, in addition to Online Flower Delivery in India. Our exquisite designs curated with a wide variety of flora and fauna are made exclusively to brighten your day and homes!
Astrology is all over cyberspace. In fact, there are many of us whose days don't even begin until we have read our daily horoscope. Astrology has definitely made its way from the sky to the earth. There are multiple traits, characteristics that are assigned to each zodiac, something we can resonate to. But can your Zodiac Sign depict the flower you can relate to? Let's see for ourselves. We have created a list of Zodiac Signs and the flower it signifies the most.
Aries: March 21 – April 20
Flower: Honeysuckle
As the first sign in the zodiac, Aries signifies the beginning, the start of something new, in addition to energy and courage. With honeysuckle blooming in early spring, the season that adds up to rebirth and new experiences, the two pair perfectly together! The essence of youth can be felt throughout.
Taurus: April 21 – May 21.
Flower: Poppy
People born under the stubborn Taurus sign are strong and compassionate. They thrive when they are surrounded by love and natural beauty of all kinds. Very similar to a poppy flower, they don't shy away in standing their ground and exude beauty and grace.
Gemini: May 22 – June 21
Flower: Lavender
Lavender is known for its exuberant appearance that perfectly blends with a Gemini's social nature. As a unique flower, with unique smell and colour, lavender makes the perfect birthday present for the wonderfully unique Gemini in your life.
Cancer: June 22 – July 22
Flower: White Rose
Being extremely emotional and sensitive, people born under the sign of Cancer are as delicate as white roses. They are also elegant, subtle, and universally adored.
Leo: July 23 – August 22
Flower: Sunflower
Better known as social butterflies and the life of the party, Leos spread happiness. As a sunny sunny sign, Sunflowers are perfect for their happy demeanour. Bright, yellow and bold!
Virgo: August 23 – September 23
Flower: Buttercup
Virgos are fun-loving with a personality that shines right through them. Along with the subtle beauty and grace, they are clean, neat and organised. That is something Buttercups relate with.
Libra: September 24 – October 23
Flower: Rose
Adored by everyone they meet, Roses are perfect for a Libra. Finding the right balance between what's right and wrong, a Libra gravitated towards peace, love and fairness, similar to a Rose.
Scorpio: October 24 – November 22
Flower: Geranium
Numerous beautiful petals of Geranium signify the many sides of a mysterious and beautiful Scorpio. You are always curious to know more just like you are always curious to see more of Geranium.
Sagittarius: November 23 – December 21
Flower: Carnation
Showcasing strength and beauty like a carnation, Sagittarius' are known for their love of love and unity, making them perfect for one of the most commonly chosen wedding flowers!
Capricorn: December 22 – January 20
Flower: Pansy
A few things only get better with age, like Wine, Pansy and Capricorns. Being hard working and tenacious, Capricorns enjoy showing off the fruits of their labor, similar to a newly sprung pansy.
Aquarius: January 21 – February 19
Flower: Orchid
Eccentric and incredible, Orchids are the perfect gift for the people born under Aquarius. With their unique personality, both Orchid and Auquarius have a lot in common m.
Pisces: February 20 – March 20
Water Lily
With a knack for art and all things whimsical, Pisces love affection. Instead of going with the flow, opt for water lilies to give to your pisces. They will definitely appreciate the gesture.