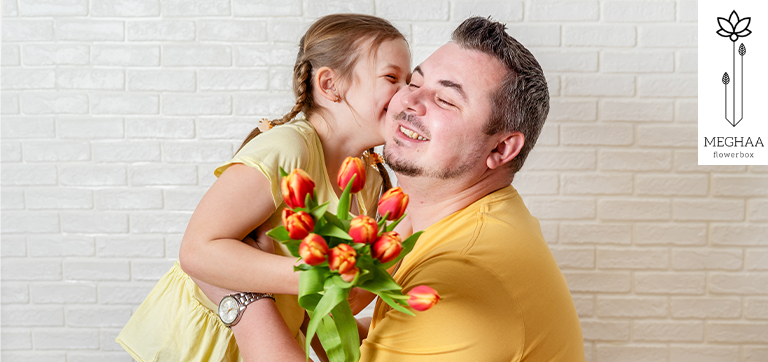 Are you in over your head wondering how to make Father's Day special for your dad? Afterall your dad is your hero - the most amazing man you've ever known! He held your hand, helped you keep your chin up and he still has your back, so at FlowerBox, a boutique that has been offering luxury flower delivery in Bangalore for nearly two decades, we understand how eager you are about making this Father's Day exceptional for him. Go ahead, do what you can to make his day special. But hey, whatever you do - don't forget the flowers!
Fresh flowers are magical. They have a positive effect on the mind, they brighten up the mood and they can heal the body and soul. Given that no one has had it easy of late, your father will definitely benefit from all the wonderful powers of fresh flowers. Their presence will help him relax, surround him with upbeat energies and they will cheer him up too. This Fathers's Day, wrap your love for your dad around a bunch of beautiful blooms. At FlowerBox, the store with the
best flower delivery in Bangalore
, we have some sublime
Father's Day flowers ideas for you
.
Fresh flowers with fresh breakfast - Place an arrangement of stunning roses or colorful carnations on the breakfast table. These flowers will not only add a sparkle to the presentation of the meal but will also show dad that you went the extra mile to make this occasion a unique experience, just the way he did things for you! This Father's Day, order our signature floral arrangements curated especially for flower decoration at home.
Fresh Flowers with wine
- They may not tell you this, but men love surprises and they love wine too! Surprise your wonderful daddy with a bottle of wine set in a gorgeous arrangement of fresh tropical flowers like anthuriums and heliconia. Didn't dad always leave you speechless with his sweet gestures of love? It's your turn now. Check out
www.flowerbox.in
for
wine and bouquet delivery in Bangalore
.
Fresh flowers with fresh fruits -
And if we need to keep mommy happy too on Father's Day, give your daddy a basket of healthy fresh local fruits encased in eye-catching local blooms. A pop of colors with snapdragons or carnations can just brighten up dad's day, of course with no guilt attached and the best part - mommy won't complain! So place your order for
online flower delivery in bangalore
by visiting our online flower delivery store.
Fresh flowers in a hand held bouquet - Your dad could certainly benefit with different energies that different flowers emit. This Father's day gift your dad a monthly subscription of hand held floral bouquets. Let celebrations continue throughout the month with our weekly flower subscription. Let your dad experience all the goodness that fresh flowers bring. Get
online bouquet delivery in Bangalore
from
www.flowerbox.in