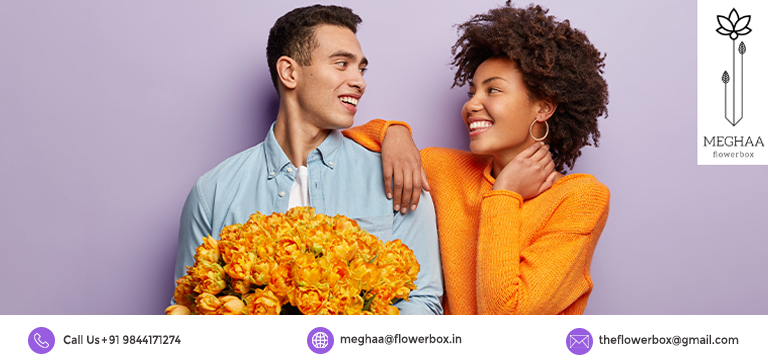 One is a rose, pleasing to the eye
Another a sunflower, ever so bright
One dazzling as a dahlia can be
My friends are a bouquet of delight.
This friendship day, we at Flower Box- the store with the
best flower delivery in Bangalore
,
can't help but compare friends to flowers. Friends, just like flowers, can make you happy. Friends bring in positivity, the same way that fresh flowers do and our buddies, very much like floral buds, add cheer to our lives. And don't friends come in all shapes and colors too, as beautiful and lovely as fresh blooms?
Friendship day is just around the bend and there is no better way to acknowledge this day but with delightful fresh flowers. Bangalore based luxury florist and founder of Flower Box, Meghaa Modi says, "Flowers are without doubt the best way to express love. For years we have even followed the tradition of presenting out friends with yellow roses as they signify everlasting friendship. And you can do that this year too." Meghaa truly believes that one can never go wrong with roses. But Meghaa also reminds us that we have come a long way and we live in times where taking a new approach will only be appreciated. Megha says, "How about breaking the cliche this year? Celebrate friendship day with flowers, but do it differently. Friends come in all forms, so why not choose something that is just right for your friend's personality?"
This friendship day, let your friends know how special they are. Here at Flower Box, the store with the best flower delivery in Bangalore, we have some fun Friendship day flowers ideas for you.

Floral Hamper -
Does your best friend stay sober just so that he can drive you back home safe after a night out? It's now time for your pal to enjoy his tipple. Gift him our floral hamper with wine to show how much you value this friendship. Our floral hamper with wine is perfect for that friend who drunk dials you every now and again too! ;) For your best friend with the sweet tooth, or your always hungry friend, you can choose from our range of floral hampers with chocolate and floral hampers with crackers & cheese. Check out
www.flowerbox.in
for
wine and bouquet delivery in Bangalore
and for
flowers and chocolate delivery in Bangalore
.
Floral Subscription -
Does your BFF appreciate all things fine and beautiful? Well, she will definitely admire a continuous supply of fresh flowers to her home! Do you have a 2am best friend? Let her know that you don't think of her only when you are anxious but that she is always on your mind by treating her to month-long floral freshness. A
weekly floral subscription
with a flower delivery store nearby should be an ideal friendship day gift.
Flower Bouquet -
Do you want to thank your best friend for always lending you his car or his broad shoulder to cry on? Do you have no words to express how much you care for your homie who has been there by your side despite your mood swings? Do you want to tell your best friend that you love her more than anything she can imagine? Say it with flowers! Go for a bouquet with traditional yellow roses or surprise your buddy with our range of luxury blooms. Order flowers online from the best flower delivery store in Bangalore. Try our luxury flower delivery in Bangalore for floral bouquets with flowers like Calla lilies and Hydrangeas.
Floral Band & Tiaras
- Yes, it's true. Girls just wanna have fun! Come on ladies, celebrate friendship day with your girl gang by wearing your flowers. Get your floral tiaras on! And what is friendship day without a friendship band? Get classy by showing off your floral bands! Order floral tiaras and floral friendship bands for your little girls too. Tweens and teens will love the idea of floral tiaras and floral friendship bands as they celebrate friendship day.
This friendship day, have fun with flowers. Shower your friends with floral love. Shop online for the best Friendship day flowers in Bangalorefrom www.flowerbox.in We deliver love wrapped around the freshest of flowers. Let FlowerBox be your first choice for
flowers delivery in Bangalore
on every special occasion.