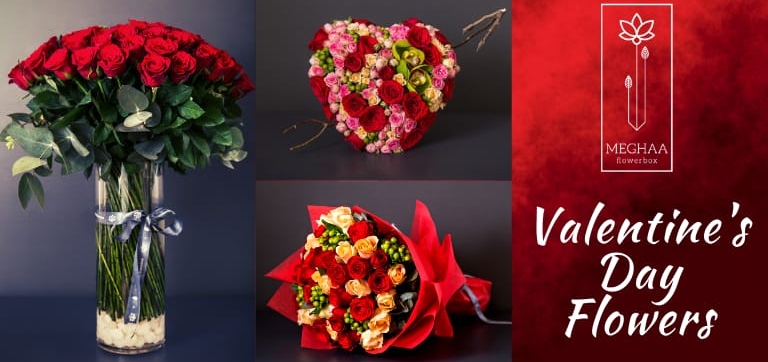 'She loves me? She loves me not? She loves me? She loves me not?'
Yes, we know you want the answer and yes, flowers have the power to tell . But why sacrifice a beautiful rose by pulling off its delicate petals in your quest for her reply? Flowers will tell, if you do it the right way! With Valentine's Day around the corner your favourite premium flower shop nearby, Meghaa Flower Box, is all set to be your cupid!
Fresh flowers are magical. In soft pastel hues they call for romance, in bold bright colors they paint passion, their fragrance tells us that love is in the air. The appeal of fresh flowers is unparalleled, ergo this valentines day, let fresh blooms do the talking. Bangalore based luxury floral stylist Meghaa Modi, who is ready this love-season for flower bouquet online delivery, is enamored by roses. She says," It is known that a red rose symbolises love and passion. Even in other colors they emit love energies. Roses are my personal favorite, they always work however there are other flowers also that create that magical effect." The balance in the floral arrangement makes all the difference and Meghaa adds "A beautifully arranged handheld bouquet with all the right elements will definitely impress your lady-love. Also ladies, break the cliche, this Valentines, send him flowers too!"
Here are some ideas with luxury valentines flowers
Hand Tied floral arrangements - You can try a gorgeous bunch of oriental lilies, statice and eucalyptus to brighten up your loved ones day or an awe inspiring bunch of vibrant hydrangeas with chrysanthemums, statice and eucalyptus... definitely pleasing to the senses! An enchanting floral arrangement of dreamy red roses can never go wrong.
Flower Box - Every flower box is a work of art. Orchids, hypericum berries or ivory roses, her favourite flower (our yours), arranged beautifully in a box is quite a thing. A flower box, colorful and lush, never fails to impress.
Flowers with cake/Flowers with chocolate - Indulge all the senses of your special one with your sweet nothings and our flowers with cakes or flowers with chocolates and flower and cake delivery. Cakes decorated with baby roses and berries are an absolute delight. A box of chocolate enclosed in a floral basket is a winner all the way!
If 'She loves me!' is what your heart desires, shower her with your love veiled in our fresh flowers for Valentines day.