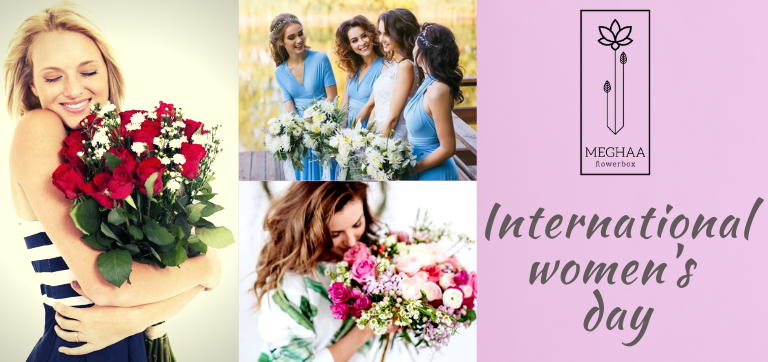 International
Women's day is just around the bend and yet again it's time to celebrate all the women in your life - your mother, your ladylove, your sister, daughter, friend, colleague, boss! It's time once again to convey your appreciation and what better way to do it than to do it with beautiful fresh flowers. But well, hard pressed that you are with your year end targets, we are glad that you don't have to risk plucking a rose from the beast's garden for your beauty or even scamper to a flower store nearby.
First things first! Women love flowers. It's the beauty and romance of flowers that draw women to fresh blooms.
Bangalore
based luxury florist Meghaa Modi says " Women reflect the nature of fresh flowers, they bloom into being delightful just like chrysanthemums and lilies, they grow in all situations, just like roses around thorns and sunflowers in harsh sun. Women share their goodness just like fragrance from peonies and tuberoses." So you are only right in your decision to choose women's day flowers as a gift to all the women who matter to you. So which flowers would you like to gift?
Roses - One can never go wrong with a handheld bunch of delicate roses. While red roses say "I love you", orange ones declare "I am proud of you." Ivory roses show how much you appreciate the charm and graciousness of the special woman in your life. Pick a rose of any color and the flower will have something to say!
Sunflowers - Ever thought of a sunflower arrangement as a gift? Bright sunflowers are all about positivity and strength. A floral arrangement made with sunflowers will say a lot more than words can!
Lilies - White Lilies signify purity, pink lilies signify femininity and yellow blooms in these are all about thankfulness. A handheld bouquet in any one or all of these colors can reflect your sentiments loud and clear.
Exotic flowers - A bunch of exotic blooms or luxury flowers like hydrangea, calla lilies, orchids, tulips and anthuriums are perfect for the fearless, exotic and enthusiastic women that you admire. Order expensive flowers online, it's a great way to show your appreciation for their sense of adventure.
So now, are you wondering......where can I find a flower bouquet shop near me? I need to send flowers.. soooon! Is there a flower store near me that can deliver fresh flowers to my wonderful mother and amazing wife on International women's day? Does someone extend bouquet
delivery
near me?
We understand if you can't make that run to the local flower shop nearby to pick up a bunch of blooms. These things happen but Flower Box, the best flower delivery store in Bangalore is here to help you celebrate all the beautiful women who have touched your life, so cheer up! Order flowers online from www.flowerbox.in for the freshest flowers in Bangalore. Show your mom, your lady love, your daughter or friend how much she means to you by ordering women's day flowers online for her. And if you still want to choose the flowers yourself drop by at our luxury flower shop in Indiranagar and experience the magic of fresh flowers yourself!
https://flowerbox.in/shop