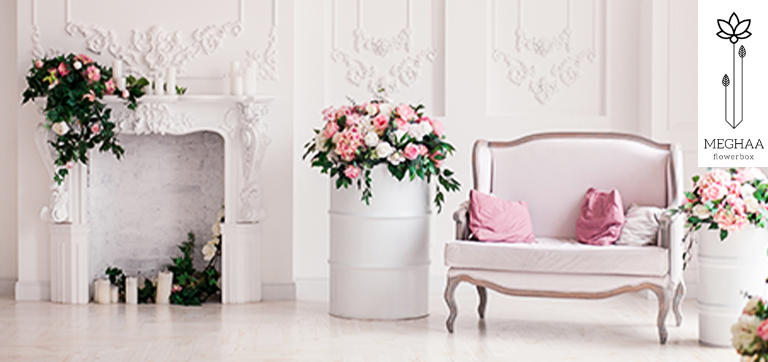 Engagements, weddings and receptions are a beautiful celebration. They signify the eternal union of two souls! Such festive occasions, when ornamented with the beauty of nature, become even more glorified. Aiming to make your big day even more cherished and memorable, FlowerBox provides you with the most desirable flower decoration for engagements, weddings and other auspicious occasions. Read ahead to know more about how FlowerBox makes your engagement party the most beautifully decorated event ever!
What we do at FlowerBox: spreading joy through nature!
FlowerBox
is the best and most renowned website for all flower decoration needs at home, office or for your parties and celebrations. Flowerbox provides exquisite styling, design, and complete production for your wedding events, and other special occasions.. Flowerbox innovates and creates the most quintessential and exciting concepts in the flower industry to design the best floral arrangements for your wedding and engagements. We are the best website for online flower delivery in Bangalore. With Flowerbox, you can get the best exquisite styling, design, and complete flower decorations at your home. We provide fresh flowers, bouquets, floral ornamented chocolates and cakes to brighten up your big day! Flowerbox provides stunning arrangements of exotic, premium, and high-quality flowers for weddings, large events, or a gathering of friends. So if you are looking for decorations for engagement parties, or need the most jaw-dropping flower decoration for your engagement, FlowerBox is your ultimate destination! With Flowerbox, you can choose from a beautifully curated range of baskets, bouquets, vases, and floral arrangements for special occasions or to just rejuvenate your home.
Floral Decorations for Engagement Party: We serve it all with flowers and blessings!
Flowerbox offers the most spectacular and colorful engagement party decorations!
Flowerbox makes every effort to present a lovely display of the most vibrant Flower Decoration for your Engagement. FlowerBox incorporates a beautiful contrast of colorful petals into your special day and aims to provide you with the most festive flower arrangement for Engagement parties that will render your guests speechless! By visiting our online portal, you can peruse the most aesthetically pleasing and designer floral bouquets and arrangements that express your undying love for your loved ones and commemorate your special day.
Celebrate your engagement day with an exotic flower arrangement! There is an extensive range of floral decorations FlowerBox presents-
Flowerbox lets you choose from a wide range of themes and colors to match your mood and preferences for the big day.
Flowerbox promises stunning flower bouquets in beautiful shapes and varieties of fruit, roses, and pink and red shades that delight the eyes at first sight!
We believe in infusing your home or event space with a sense of freshness and innocence.
You can avail floral pieces in beautiful geometric shapes, floral vases, ornaments and show-pieces for decorating your engagement venue
Moreover, we also arrange for a beautiful selection of Bouquets that you can gift to your guests as a token of your gratitude!
We also provide floral arrangements in dessert like cakes and chocolates. Buying floral ornamented cakes can enrich your engagement experience manifold!
With such an amazing selection of services to energize your big day, choosing FlowerBox for your engagement party decorations is the best step to a great celebration. Learn more about our services at our website and delve in a delightful selection of flowers, berries and delicacies to complement them with.
Benefits of FlowerBox services-
In addition to our amazing services, connecting with us for flower decorations for your engagement will yield many benefits to you. These include -
We understand that giving the task of decoration to some other agency can be a difficult task. It might be stressful wondering about whether one would do a good job or not. Well, with Flowerbox you don't need to worry about it! You can trust us with the most satisfactory results, and we work with trained professionals who work with utmost safety and security of your privacy.
-
Freshness and creativity:
Fresher the flowers, more scent and love purity they spread. We ensure that all our flowers are selected carefully with utmost freshness and meticulous care. We have special Ikebana designers who create the best floral arrangements for your party. With the most creative and innovative designs, we ensure that your guests keep complimenting your arrangements even after the party is over!
-
Punctuality and personal preference:
We understand that you need what you want - only the best! Therefore, we ensure that we include all your desired preferences and needs in our floral arrangements, so that you feel right at home. Moreover, we ensure that all the decorations and arrangements are done by the exact time you requested.
So, if you want the most stunning and gorgeous orchestration for your engagement party, FlowerBox can help you all the way. Let your friends and family cherish the beauty of nature that we provide with our loving hands!