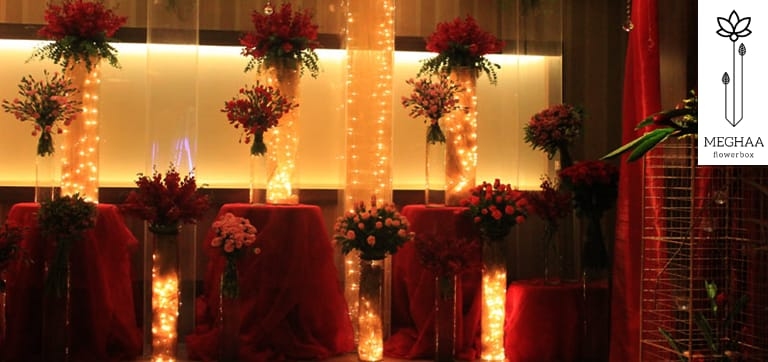 Can you imagine a wedding without floral decorations? How bare will a hotel reception look without aesthetically arranged fresh flowers! Have you ever noticed how a home designed with flowers always looks stunning? Has the gift of a lovely floral bouquet ever failed to impress?
Floral design
is an intrinsic part of our lives. Our celebrations and our spaces are incomplete without creations made from fresh flowers. Floral design is a part of our lifestyle, it is a part of our aesthetics. In recent times, with increased spending capacity and a general tendency to go natural, fresh flower arrangements are gaining more popularity than ever before. Bangalore based luxury flower stylist and India's premier floral designer, Meghaa Modi, who has been a part of the flower designing industry for almost two decades agrees that the demand for fresh flower decorations has soared but at the same time points out that the scene lacks trained floral designers.
Owner of FlowerBox - a store that offers best flower delivery in Bangalore, Meghaa, who went overseas to study floral designing says, "Floral designing is a part of our culture yet is not a part of our upbringing. We don't really have floral designing courses like we have interior and fashion designing. It's heart-breaking that flower designing is not even taught as art in schools." Meghaa believes that the industry needs more trained floral artists and flower designing in today's times can prove to be a great career prospect.
A floral designer's job is to create eye-catching designs out of fresh blooms, foliage and props keeping in mind the occasion, season, space and other factors. Meghaa Modi reminds us, "Flower designing is more than just putting leaves and flowers together. There are so many details that have to be taken care of." Meghaa, who has gone through years of formal training in floral designing, mostly abroad, strongly feels that India needs more schools of floral design. She says,"Flower designing is about balance and harmony. It's about the designer's idea and the client's taste. One also needs to understand how different flowers behave in different seasons and settings. A thorough grasp of these aspects, the ability to aesthetically bring colors and greens together and awareness of what's trending in the world of whorls are things that one learns at flower designing schools and these are the things that go into the making of a top notch floral designer. Sadly, proper designing schools that teach all of these here can be counted on the petals of a periwinkle! "
Meghaa Modi, the best florist in Bangalore, is keen on making it known that Flower Designing is a brilliant career option and that one can definitely become a successful floral stylist with the right training. Meghaa has therefore taken the initiative and has started her own floral designing school in Bangalore. Meghaa's floral design course is fashioned for anyone wishing to enter the floristry business. This 10 lesson course teaches a set of floristry techniques, design skills and basic business skills, which along with Meghaa's philosophy forms a solid foundation for anyone entering the world of floral design at any level. You even create your own personal portfolio while learning! One can start with arrangements that include flower decoration at home, flower decoration for office and hand held bouquets. With intensive, advanced training one can even create elaborate designs such as flower decoration for engagements or flower decoration for wedding hall or luxury wedding decor.
So, if you are creative and if you enjoy the idea of putting flowers together to form stunning creations, you can consider taking up flower designing as a profession. Visit
www.flowerbox.in
to know more about the various floral designing courses that are offered at Meghaa Flower Box. To register and for more details on the upcoming Floral design workshop at Meghaa Flower Box, Indiranagar, Bangalore, from 1st to 5th July 2021, log on to
https://flowerbox.in/flower-school
Get the flower power on your resume and see your career bloom! We couldn't have said it better!