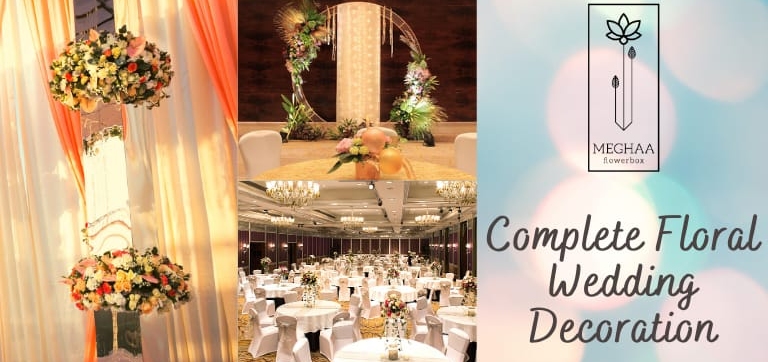 "Flowers are a proud assertion that a ray of beauty outvalues all the utilities in the world." – Ralph Waldo Emerson
No wonder, fresh flowers are and will forever remain an innate part of each and every celebration. The wedding season is upon us and as one of the Top wedding planners in Bangalore, we know that wedding decorations are incomplete without flowers and no other form of decoration can compete with the magic of fresh floral wedding decor.
When we think of wedding decor, we imagine elegant wedding stage decoration, we talk about wedding gate design or about wedding mandap decoration. Bangalore based luxury floral stylist and premium wedding florist Meghaa Modi says, "A wedding venue decorated with beautiful fresh seasonal flowers holds the magic of paradise." But wedding floral decoration is not just about the venue. Meghaa points out, "A good floral stylist will look at your wedding from a 360 degree-view. Which means, from beautiful bridal room decoration to lagan mandap design, from trousseau packing to intricate couple garlands, your wedding florist will set the mood for the wedding with fresh flowers."
No doubt, weddings are incomplete without fresh flowers and we at Flower Box have been a part of numerous bangalore weddings curating high quality flowers for events, creating eye catching floral wedding decorations year after year for nearly two decades. Here are some other ideas that have completed the floral look for many luxury Bangalore weddings and can be a part of yours too! As Meghaa puts it,"You can never go wrong with a touch of blooms here and there."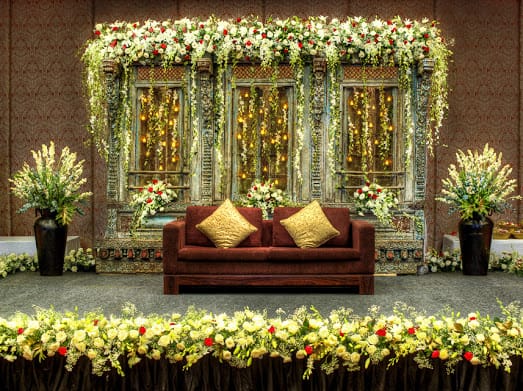 Trousseau packing- Wedding presents given to the bride and her new family deserve every bit of love and attention. What's inside will have a whole new meaning when decorated with fresh blooms like roses, anthurium or orchids on the outside.
Tiara and Corsage - When the bride and bride's maids flaunt tiaras made from fresh flowers like Mokara orchids and gypsy flowers, there's playfulness in the air. When the groom and the best-man show off their floral corsage you know the mood for the evening is set.
Wedding Garland - Garlands are an important part of Indian weddings. They have cultural significance and they also add freshness and colour to the wedding ensemble. Wedding garland designs should be in sync with the rest of the wedding decor. Intricate garlands made from local rose petals or tuberoses are rather popular. But if you are thinking of something different like lotus or a whole lot of colorful orchids, we can weave one for you. Oh wait a minute, let's make that two!
Wedding bed decoration with flowers - 1st night room decoration? We stop at nothing
So, if your question is who will design my wedding and curate high quality wedding flowers near me? Look no further. We are experts in wedding floral decoration and we can create the most complete elegant wedding decor for your special day.
Meghaa flower box has the freshest flowers for you. For unique flower decoration ideas, get in touch with luxury wedding florist Meghaa Flower Box and book your consultation today. Log on to www.flowerbox.in or follow @meghaaflowerbox on instagram