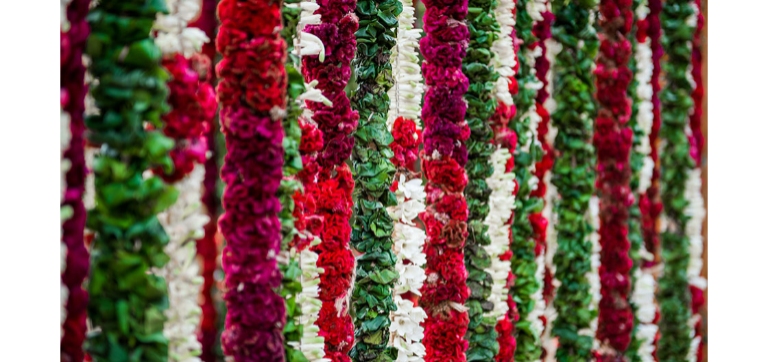 The wedding season is knocking on our doors. Tulsi vivah, which falls on the 9th of Nov this year, signifies the beginning of the wedding season in India and hundreds of couples, their families and friends are looking forward to the big day. And everything seems set – band-baja, baaratis, banquets and blooms! We are here to talk about the blooms.
Flowers are and will forever remain an integral part of weddings. From beautiful floral mandaps to fine centrepieces. From intricate couple garlands to thoughtful bouquets for the newly-weds. Even the bride's hair is adorned in flowers, the groom wears a corsage and the brides-maids flaunt tiaras. No doubt, weddings are incomplete without fresh flowers.
Floral decor done right makes a wedding very special and leaves an everlasting impact on everyone present as fresh flowers are not only religiously significant but are also visually appealing.
The mandap, the momentous space where vows are exchanged, when decorated with fragrant marigold, roses or mogras, gently fill up the senses and create a perfect start to the couples journey together.
The pathway decorated with floral theme for the afternoon or evening guides the couple as they walk hand in hand for the first time as man and wife. Orchids or tulips or roses! Red, white or yellow! Fresh floral wedding decoration makes the walk down the pathway an affair to remember.
The newly weds take their place on the stunning stage decorated with cascading floral chandeliers or perhaps a breathtakingly gorgeous backdrop. Oriental lilies or peach roses or sunflowers or cymbidium… the garden is open! Thoughtfully created floral decors bring more charm to those captured moments inside that wedding photo album.
In a wedding decorated with beautiful fresh flowers the vibes that flow are pleasing and emotions are overall pleasant. Garlands, tiaras and corsages that are worn by the bride, the groom and their friends and family also form a part of the wedding decor. When a theme runs through the thread that bring the fresh flowers together, a theme picked by the couple and designed by a floral decorator of calibre and experience, the big day will be unforgettable for the bride and the groom and for each and everyone present .
All the very best for your special day!
Our Team of Meghaa Flowerbox are experts in wedding floral decoration in Bengaluru as well as for floral decor for destination weddings in India. We can create the most elegant wedding decor for you. It's our promise that your wedding decor, with our fresh flowers, will be the talk of the town!